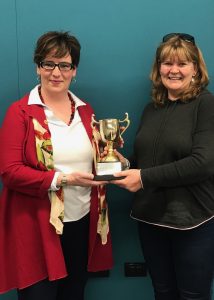 Today at Christchurch Women's Toastmasters' online meeting, Laura Bruce DTM will present an educational speech to help you win the Humourous Speech Contest. The meeting will be an online meeting, and guests are very welcome.
To help you take notes, Laura has created this worksheet which she suggests you print out ahead of the meeting. Download the worksheet here
Laura is the 2020 District 72 Humourous Speech champion, so she knows a bit about winning the contest. You may be surprised to learn, however, that most of what Laura knows came from many year's experience losing the contest. Until 2019 when she won the Christchurch Women's Club Humourous Speech Contest, Laura had never won the speech contest at club level.
Laura credits Toastmasters with giving her both the skills and the confidence to try stand-up comedy. She made her debut in Scotland but really got stuck into comedy once she relocated to New Zealand in 2019. In December 2020, she was voted "South Island Newcomer of the Year" by members of the New Zealand Comedy Guild.
Prepare to be motivated and inspired by her presentation today!
Enjoy!